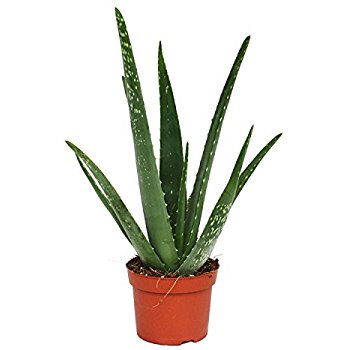 Most of you have seen this plant in stores or in gardens and know it as the "Burn Plant." And you would be correct–but Aloe Vera is so much more. It is a cell proliferent. The beginning of this word is pro life! This means it is able to reproduce cells at a very rapid rate– Think rabbit 🙂 Aloe feeds the cells exactly what they need to rapidly reproduce cells on the area around a burn or scrape, or a cut, a wound to cause the skin to grow and fuse together and heal the area very quickly.
Aloe is emollient–this means that it is a moisturizing agent that is AMAZING! Aloe is able to penetrate down 7 layers of skin making it the most effective of moisturizers. This is great news if you have dry skin, sunburn, an irritating rash, or a condition such as eczema or psoriasis. Teaming Aloe with other herbs can make a powerhouse of a salve, lotion or balm. Did you know that Aloe is also skin-firming? When you apply it on the surface of the skin, it feels like it is making your skin shrink a bit. Imagine this in an anti-wrinkle cream. Aloe actually increases the production of collagen which gives your skin that youthful healthy look.
Aloe is also anti-inflammatory –This means that it reduces inflammation in the body and could reduce pain. Aloe is anti-septic with the ability to fight the bacteria that can cause infection; anti-fungal–to fight fungal and yeast infections, anti-microbial–to get rid of parasites, anti-oxidant to boost the immune system. Aloe has been shown to increase white blood cells which are the "troops" that fight against disease in our immune system. It helps enlarge the thymus gland by up to 40%, which produces more killer T cells. Aloe is a virus-blaster against influenza and a fever-reducer.
Aloe Vera cleans the colon and helps leaky gut syndrome because its sugars are not broken down in the bloodstream and actually stick to the cell lining in the gut. This forms the necessary barrier to prevent food materials to escape. Aloe has been known to soothe indigestion and helps with IBS.
The best way to apply Aloe to the skin is to just cut a segment off of one of the leaf spikes with a knife. Now slit the segment surface top to bottom. Open up the segment flat and scrape the gel from the segment, or just rub the gel from the segment onto your skin irritation until the gel is gone and only the skin of the aloe segment is left. Repeat as necessary.
You can purchase Aloe in a gel or a juice if you don't have the plant— to add all these benefits to your diet. The extract is even available in powder form which you can put in smoothies and healthy drinks, or fill empty capsules mixed with other herbs in formulations. So next time you are tempted to think that Aloe Vera is only good for the beach, think again!